SPA Hotel Belvilis to be sold at an auction
2018-09-17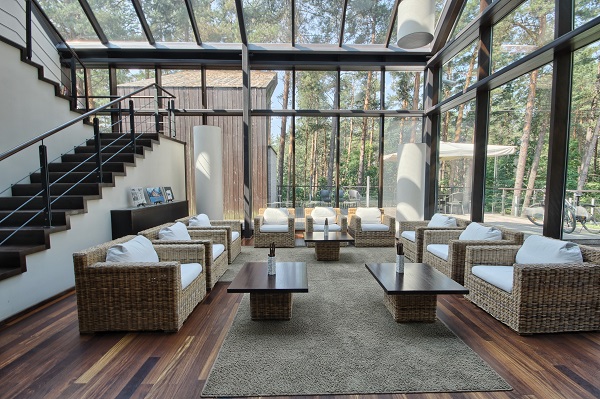 SPA Hotel Belvilis located in Molėtai District will be sold at a public auction organised by Ober-Haus. The asking price is EUR 2.5 million.
The Belvilis complex was built in 2005 as a SPA, hotel and conference centre. The complex is offered for sale together with its structures and parcels of land. The total area of the complex is nearly 2.300 sqm and the total area of the parcels of land is 3.8 ha. The complex consists of a hotel building, 7 holiday homes, tennis courts, an open-air stage and other engineering structures. All buildings are in good working order and are sold with all equipment, furniture, and elements of interior decor.
'The project was implemented in a unique location in the neighbourhood of the Labanoras Regional Park, on the bank of the Lake Bebrusai. The hard and soft landscaping is in place on the property and includes bicycle paths, lakeside area and the beach, overall it is a modern centre,' Darius Tumas, Ober-Haus Commercial Real Estate Senior Consultant, said.
The centre has been adapted to provide tourism services both in the summer time and wintertime: this is a venue for training sessions, conferences and seminars and accommodation, food catering services, swimming pool and sauna facilities are offered throughout the year.
'The auction should be of interest to investors who have planned or considered a similar line of business. By acquiring the operating hotel, the buyer will skip the planning, design and construction stages and will have trained staff – the complex is geared up and running. The buyer will be able to continue successfully operating business under the reputable brand of SPA Hotel Belvilis, to develop the scope of services or to adapt the existing centre for own needs, for example, a sanatorium or a rehabilitation facility,' Mr Tumas said.
Applications shall be submitted by 17 October 2018, 12.00 by email aukcionas@ober-haus.lt and raimundas.mickunas@baltichearts.lt.
More information about the sold object is available at www.ober-haus.lt/auction