Robust spring in Druskininkai housing market
2021-04-20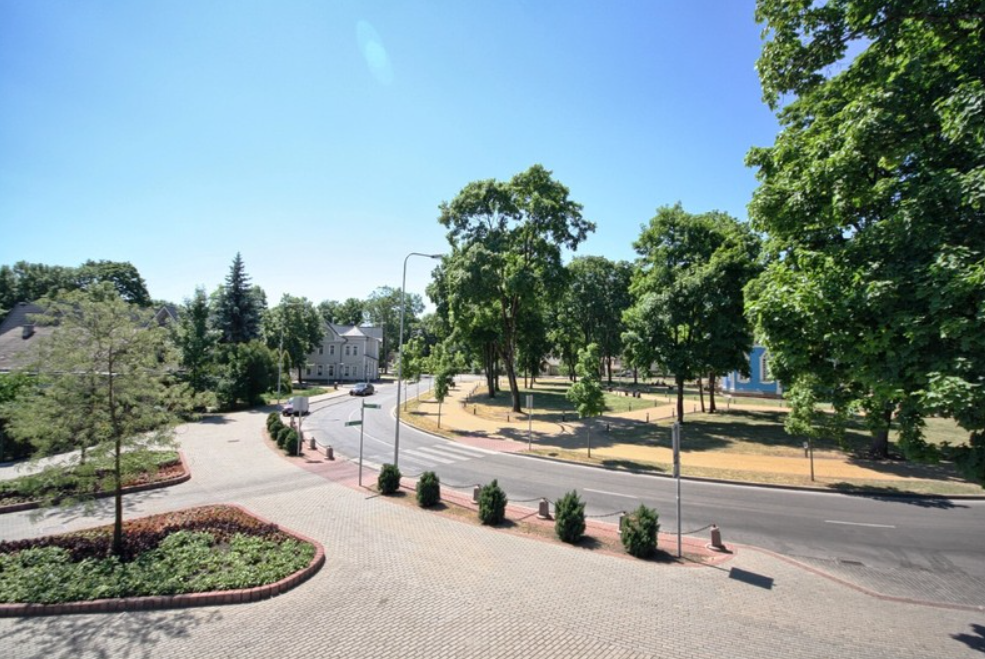 More than a year has passed since the start of the pandemic and the lockdown in Lithuania. This has affected all areas of our lives and made adjustments to the priorities of the population considering a new home. The need for more spacious homes has increased, buyers chose houses over apartments or opted for a second home. A home in the natural surroundings in the countryside or in a resort town became a more common purchase.
"The demand for a second home has revived the real estate market in the regions. Since last year, homes in picturesque locations have been actively purchased and investment in real estate in resort towns of Lithuania has been made," Ričardas Klincaras, a real estate expert at Ober-Haus, said.
The seaside region was the first to see record numbers of transitions. At the time, only a small number of investors and buyers took interest in small resort towns, such as Birštonas and Druskininkai. "However, there was more and more visible activity in the real estate market in these resort towns, especially in Druskininkai. The spring therefore started robustly in Druskininkai," Klincaras noted.
March this year was exceptional for Druskininkai. According to the State Enterprise Center of Registers, 36 purchase and sale transactions for apartments and 7 for houses were recorded in Druskininkai in March, while in February, 12 apartments and 2 houses were sold.  According to the Ober-Haus expert, the housing market in Druskininkai is picking up speed with continuing activities of buyers in April.
As recorded by the State Enterprise Center of Registers, 11% more apartments and houses were sold in Druskininkai during Q1 2021 than during the same period in 2020.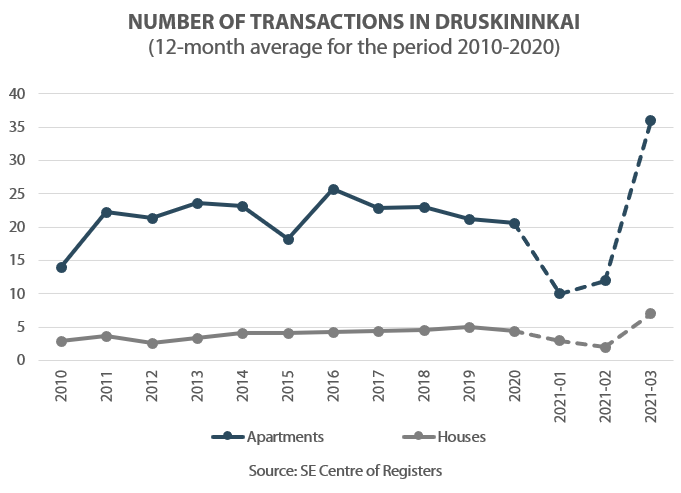 According to Ober-Haus, the prices of apartments in Druskininkai increased by 2.4% per year (in March 2021 compared to March 2020). In March alone (in March 2021 compared to February 2021) the prices of apartments increased by 0.8%. At the same time last year, the lockdown not only slowed down the apartment price increase, but also negative changes were recorded – in March 2020, a decrease of 0.2% was recorded.
"The city is investing heavily each year by building new attractions. Recently, a sports training center has been opened, a culture center is being built and new investment in Karolis Dineika Park has been attracted. As the resort attractiveness grows, more buyers purchase real estate in Druskininkai not only as a second home for recreation, but also as an investment with a prospect of the price increase in the future," Klincaras observed.
Most of the apartments sold in Druskininkai are located in the central part of the town. "A typical buyer of such a home is a 45–60-year-old resident of Vilnius, Kaunas, Marijampolė or Alytus, who uses his own savings or a small amount of borrowed money. Residents of Druskininkai are more active in purchasing property further away from the center usually with a mortgage," Klincaras said.
"We also communicate with foreigners who know Druskininkai well for its spas and consider purchasing their own holiday home. Although their activity is not as high as 6–8 years ago, but some of them are still interested and we manage to attract some of them," Klincaras explained.
There is a lack of supply of quality 35–45 sqm apartments in the primary market projects in Druskininkai and such apartments are currently hardly available. According to the Ober-Haus expert, this has not passed unnoticed by potential investors, who respond to the changing market situation and intensively absorb not only empty land plots suitable for building apartment buildings, but also purchase unfinished buildings or buildings that need reconstruction with an aim of developing apartment buildings.
Interest in individual and semi-detached houses, according to the number of transactions, equals to that in apartments and demand is noticeably growing, the only problem is the lack of supply. "Families from cities who can work remotely and plan to spend half their working week or to move to Druskininkai permanently are looking for such properties," Klincaras said. These buyers opt for the new central part of the city (Baltašiškė) with its well-developed infrastructure and convenient access.