The largest apartment building project developed in Panevėžys over the past decade
2021-04-28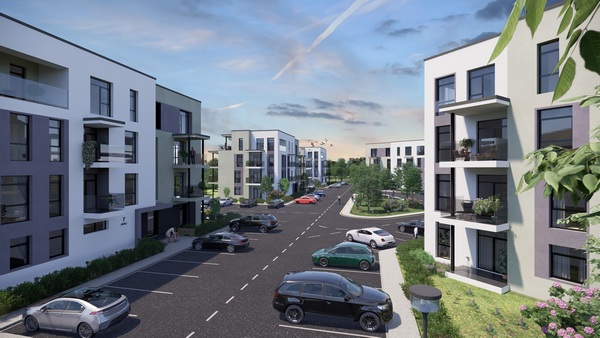 In the western part of Panevėžys, in Kniaudiškės district, development of Ainių Namai, the largest apartment building project in the city in the last decade, has been launched. Six A+ energy class 4-storey apartment buildings will be built on the spacious 1.2 ha site. A total of 114 apartments are planned in the project. Buyers will be able to choose 1.5–3 room apartments (34–86 sqm).
The Ainių Namai project is carried out on a plot of land that is special because there are no other apartment buildings nearby. Therefore, high-rise buildings will not block the sun at any time of the day. "A decade ago, the master plan of the city provided for the construction of apartment buildings in this part of Panevėžys. We are pleased that the developers of new housing will contribute to the renewal of the city of Panevėžys and will build the first two buildings this year," Romualdas Paulauskas, Head of the Ober-Haus Office in Panevėžys, said.
Modern 4-storey buildings are designed to make it convenient for residents to access the buildings, there will be space for children's playground and sports grounds. Apartments on the ground floor will have individual terraces, apartments on the first and second floors will have balconies and apartments on the top floor – roof terraces. Storage areas will be located on the ground floor. A parking space is planned for each apartment next to the buildings.
"The project developed in a new district of Panevėžys will blend in the surrounding architectural and natural environment. The team has put a lot of effort into planning technical, engineering, and internal layout solutions. For the convenience of the residents, wide panoramic windows will be installed in each apartment. Underfloor heating will distribute heat evenly," Paulauskas said.
The site will be accessed via automated gate and will be lit to ensure privacy and security of the residents. The property will be complete with landscaping, pavements and green zones.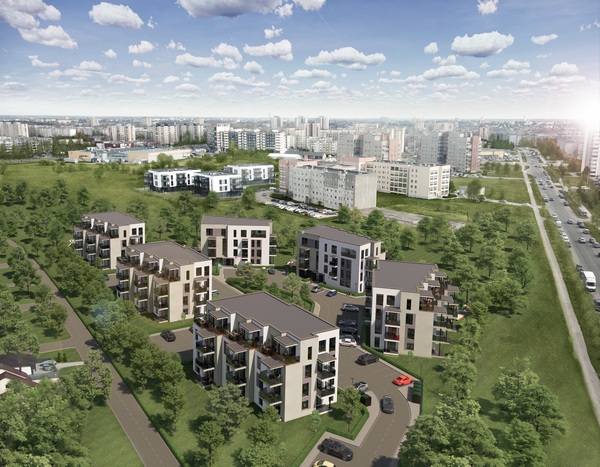 Kniaudiškės is a popular district with the residents of Panevėžys. It is in a convenient location with well-developed infrastructure – there are major shopping centers RYO, Babilonas, and Depo, grocery stores Maxima and Norfa, schools, kindergartens, medical institutions, bus stops, etc. nearby. Residents of Ainių Namai will be able reach any place in Panevėžys quickly and conveniently both by private and public transport. It is also convenient to reach the main roads to Vilnius, the seaside and Latvia.
The project will be developed in three stages. The first stage of construction works is scheduled for completion in Q1 2021. The second and third stages will be carried out in 2022.
Developer – MB Tadara, architects – UAB GA Projektai, concept, marketing and sales – Ober-Haus.