Euromoney: Ober-Haus named the best real estate company in Lithuania for the fourth time
2021-09-14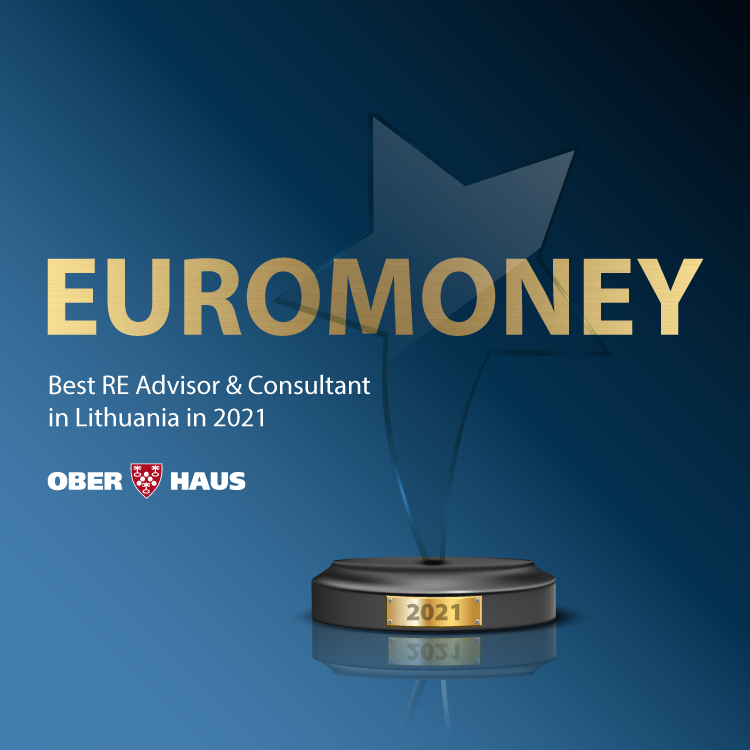 Euromoney, the international business and finance publication, has declared Ober-Haus the best real estate (RE) company in Lithuania in 2021.
Ober-Haus was the first in all categories of the annual Euromoney awards: the best in Agency-Letting/sales, the best in Property Valuation and the best in RE Research and Analytics in Lithuania, and, ultimately, the best RE services company overall in Lithuania.
"Our day-to-day work is based on competence, transparency and respect for business relationships and has determined the long-lasting trust of our clients and most market participants. We provide services to business, individuals and the public sector. Hence the evaluation of a wide circle of customers is very important to us. The Euromoney award is a pleasant recognition as well. It will motivate us to further develop new quality standards for complex RE services in the market," Audrius Šapoka, general manager of Ober-Haus, said.
The Lithuanian team of Ober-Haus has more than 130 employees. The company provides around 12,000 RE services annually. Last year, the company concluded 1,200 transactions on the sale and rent of residential and commercial property, prepared more than 11,000 property evaluation reports, valuation expertise and consultations. Ober-Haus Market Research Department has accumulated unique data and prepared regular overviews which reflect relevant events and issues in the RE market for over 20 years. "Our impartiality and the significance of our data to the market is proven by the fact that we are most often quoted by the media, famous economists, the Bank of Lithuania and other leading commercial banks," Šapoka noted. In 2020, Ober-Haus had a turnover of EUR 4.25 million, excl. VAT.
This was the 17th Euromoney awards. RE companies are assessed by means of a survey of Lithuanian RE market participants (RE experts, developers, representatives of construction companies and finance institutions), evaluation of their services, their managed property, the growth of the company and other indicators. Euromoney has given Ober-Haus top evaluations for the seventh year in a row; this is the fourth time Ober-Haus been chosen as best RE company in Lithuania.
Ober-Haus has operated in Lithuania since 1998 and is the biggest real estate service provider in Lithuania and the Baltic region. It belongs to one of the major Finnish brokerage and RE consulting services company, Kiinteistömaailma. The company provides brokerage services for buying, selling or renting commercial and residential property, as well as business evaluation, consulting and market research services in terms of immovable and movable property. Ober-Haus has 19 representative offices in the main cities of Lithuania, Latvia and Estonia with 220 employees in total.