Apartment prices in April increased, except in Klaipėda
2019-05-08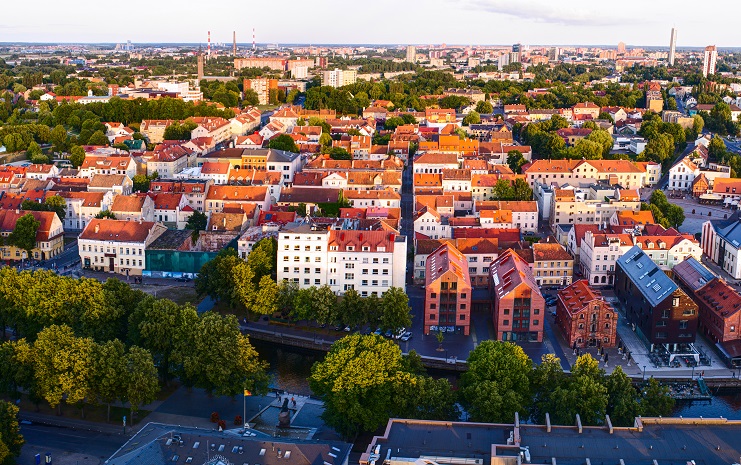 The Ober-Haus Lithuanian apartment price index (OHBI), which records changes in apartment prices in the five major Lithuanian cities (Vilnius, Kaunas, Klaipėda, Šiauliai and Panevėžys), increased by 0.3% in April 2019. The annual apartment price growth in the major cities of Lithuania was 5.1% (the annual apartment price growth in March 2019 was 5.0%).
In April 2019 apartment prices in the capital grew 0.2% with the average price per square meter reaching EUR 1,534 (+3 EUR/sqm). Since the last lowest price level recorded in May 2010 prices have increased by 32.9% (+380 EUR/sqm). Apartment prices in Kaunas, Šiauliai and Panevėžys in April grew by 0.7%, 0.6% and 1.0% respectively with the average price per square meter reaching EUR 1,095 (+7 EUR/sqm), 688 (+4 EUR/sqm) and 669 (+6 EUR/sqm.). In Klaipėda no price changes were recorded and average apartment price remained the same as in November – EUR 1,085.
In the past 12 months, the prices of apartments grew in all major cities: 4.4% in Vilnius, 5.1% in Kaunas, 3.8% in Klaipėda, 10.3% in Šiauliai and 13.9% in Panevėžys.
"The analysis of changes in prices of old and new apartments shows that over the past 12 months a faster increase in sales prices of old apartments was recorded in Vilnius and Kaunas, while in Klaipėda the prices for new apartments increased. In a year, the price increase for old apartments in Vilnius and Kaunas stood at 5.2% and 5.6% and for new apartments – 3.5% and 4.2% respectively. At the same time in Klaipėda prices for old apartments grew by 3.0% and those for old apartments – by 5.3%.
Considerable and still growing volumes of construction of new apartments in the country's capital city and a substantial rise in the number of newly completed apartments in Kaunas determined more moderate price growth for new apartments in these cities, compared with those for older apartments. It is obvious that increasing competition in the housing market affects sales prices. In the meantime in Klaipėda, despite larger volumes of construction of multi-apartment buildings in 2018, there has been no major breakthrough in the development of such real estate and the choice of new apartments is considerably smaller in Klaipėda than that in Vilnius or Kaunas. Smaller competition in Klaipėda therefore determined greater increase in prices for new apartments in this city", Raimondas Reginis, Research Manager for the Baltics at Ober-Haus, said.
Full review: Lithuanian Apartment Price Index, April 2019 (PDF)