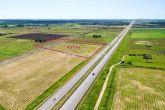 Klaipėdos r. sav., Šlapšilės k.
Plot for sale
Object type

Plot for sale

Purpose

Agricultural, Other, Commercial, Industrial land

Plot area

4.51 ha

Reference
About this property
PLOT NEAR KLAIPĖDA - KAUNAS-VILNIUS HIGHWAYS 2 agricultural plots for sale near the Klaipėda-Kunas-Vilnius highway. The plots are sold together. - Location - Klaipeda d. sav., Dauparai-Kvietiniai sen., Šlapšilė village; - Purpose - Agriculture with the possibility to change the purpose; - Total area of plots - 4.51 ha; - It is possible to purchase a nearby 7 ha plot; - From the plot to Klaipeda city 18 km, to Gargždai city 6 km; - Strategically convenient place for business; - The terrain of the plot is smooth without trees. Contact us now - we will discuss the possibilities!