2021 in Vilnius: Fewer Apartments Built Than Planne
2022-02-21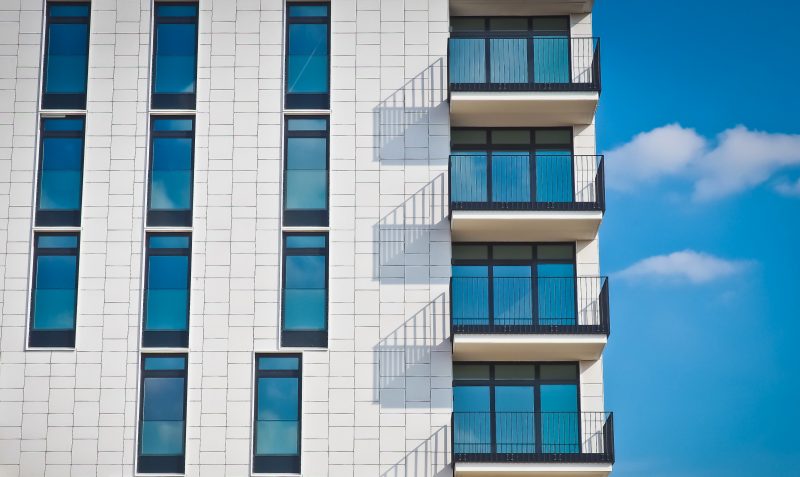 2021 saw the Lithuanian housing market experience new highs in housing prices, demand and overall market turnover, thus exceeding almost all the indicators of the previous year. The main focus is certainly on the capital city, in which half of the country's sales take place. Owing to the unprecedented demand for houses in the country's capital the choice of new apartments is at a record low as developers scramble to meet the sudden surge in demand for houses. However, the rapid increase in the cost of and shortage of labour and building materials, slowed down the pace of apartment construction, and the number of apartments built in 2021 was more modest than projected a year ago.
"Ober-Haus has collected detailed data on the housing development in Vilnius and other major cities of Lithuania for almost 20 years. Currently the database of Vilnius and its surroundings contains information on multi-apartment building projects which have offered 63,500 apartments constructed and offered for sale in the period from 2003 to 2021. This overview of published statistical data on apartments in multi-apartment buildings does not include data on individual or semi-detached houses and non-standard projects (e.g., lofts). It also excludes data on projects which are intended exclusively for rent and as social/ municipal housing.
According to data available to Ober-Haus, in 2021, developers built 4,113 apartments for sale in multi-apartment buildings, i.e., 23% less than in 2020. Early 2021, forecasts stated that developers would complete 4,500-4,700 apartments but the final result was notably smaller than forecast.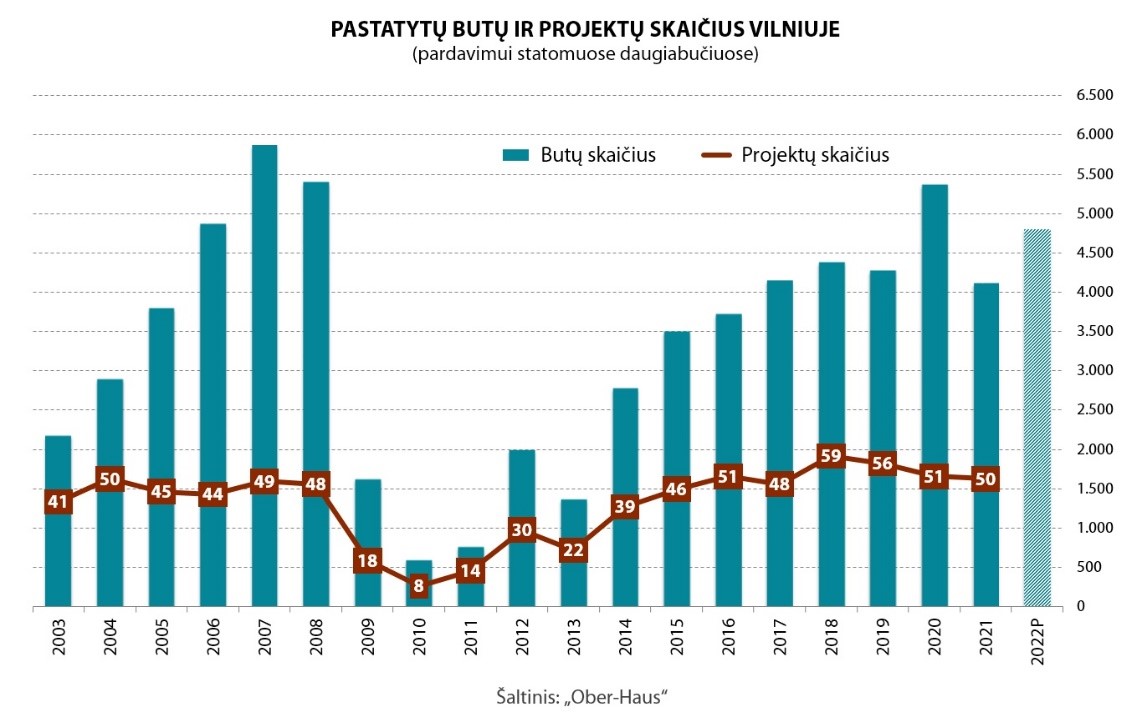 "Evidently, additional challenges on the construction site have led to slightly longer construction timelines, pushing the completion of some projects out to 2022. The situation is completely different than in 2020, when the construction industry successfully stood the test of the present pandemic, and developers managed to exceed the forecast volumes of previous construction," Raimondas Reginis, Head of Market Research for Baltic Countries at Ober-Haus, noted.
The number of apartments built in 2021 is the smallest in the last five years. In 2017, 4,146 apartments were built, in 2018 – 4,377, in 2019 – 4,265, and in 2020 – as many as 5,359 apartments. In 2021, buyers could choose to settle in 50 different projects (continued project stages included in the calculations). Despite the smaller number of built apartments, the choice was rather big. For instance, in 2020, the total number of apartments built was even 30% bigger, but the number of different projects was very similar – 51.
It is also important to note that not all rising blocks of flats are intended for sale. In recent years, we have recorded a fairly rapid development of the housing rental segment in the capital city, when investors invest in housing projects meant for long-term rent. Investors are not only investing in the reconstruction of old buildings, they are also investing in new multi-apartment buildings for long-term rentals.
"For instance, the Finish construction service group YIT and the BTA Baltic Insurance Company announced in 2021 that they were setting up a joint company to invest in multi-apartment buildings to be built for rent. The latter company will purchase two almost completed multi-apartment buildings (over 120 apartments) in the project Naujasis Skansenas developed by YIT Lietuva in Šnipiškės residential area," Mr. Reginis said.
Six Municipal Areas Dominated in 2021 – Large-scale Investments in Central Part of the City
Over 2021, developers built new multi-apartment buildings in 16 out of 21 municipal areas of Vilnius city. Most investments were attracted by six municipal areas which accounted for 77% of all apartments: Šnipiškės (16.6%), Pilaitė (15.1%), Old Town (14.4%), Verkiai (13.9%), Naujamiestis (9.1%) and Lazdynai (8.1%). In 2021, we continued to see solid investments in the central part of the city (Senamiestis (Old Town) and Naujamiestis (New Town)), which often features higher class housing projects. In the period from 2019 to 2021, these municipal areas each offered at least 900 apartments for sale annually.
Among the most recent large-scale projects that have been implemented or are still under development in these municipal areas, it is worth mentioning projects such as: Misionierių Sodai, Paupys, Renesanso, Mindaugo Baltas Lapas, Matau Vilnių. Purchasers' interest in higher-end projects and record-breaking transactions in these areas continue to encourage developers to look for more expensive development opportunities in the city centre.
Average Apartment Area Remains Stable, No Changes Are Forecast
The average size of apartments in multi-apartment buildings in the country's capital city has remained stable over the last seven years and has ranged from 51 to 53 sqm. According to Ober-Haus' data, the average area of an apartment in Vilnius was 52.4 sqm in 2021; this is 0.5 sqm less than in 2020. Apparently, developers have optimised (reduced) the formula of space arrangement in projects constructed for sale and have no plans to change it in the nearest future.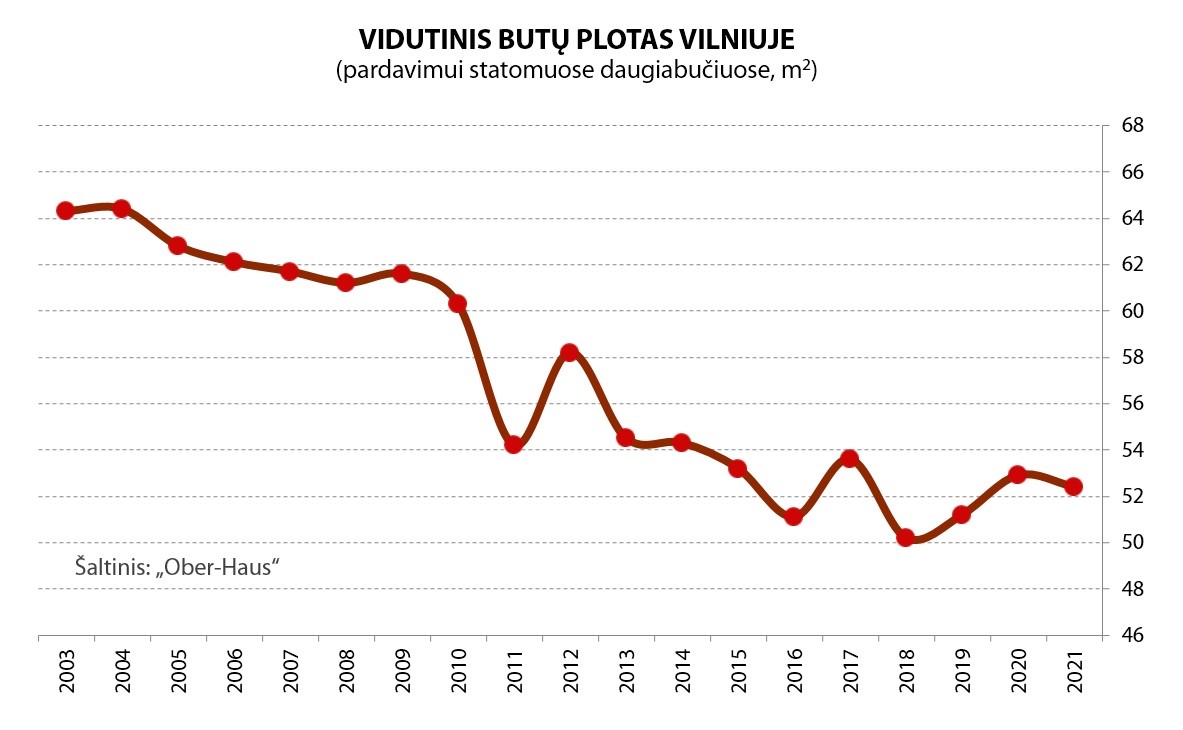 Although the change in the average size of all apartments built may be affected by the structure of a specific building, for a number of years, we have observed quite a wide and diverse geographical distribution of development in the city with cheaper and more expensive projects being built in various parts of the city. Nevertheless, there is a trend to offer buyers more spacious apartments in high-end projects with areas of 150 sqm or more. Meanwhile, middle class or economic class projects, which are developed further from the city centre, in residential areas of Senamiestis (Old Town) and Naujamiestis (New Town) in 2021 amounted to 57.1 sqm (59.2 sqm – in 2020), in Žvėrynas, Antakalnis and Šnipiškės – to 53.7 sqm (53.8 sqm – in 2020), and the smallest apartments – 50.1 sqm (51.1 – in 2020) – are found in the remaining areas of Vilnius city.
Considering the size of newly built apartments and the poor choice of more spacious housing in economy and middle-class projects, it is not surprising that in the last five-six years we have seen a huge surge of investments in residential construction and acquisition both in Vilnius region and indeed throughout the whole country. Individual or semi-detached houses on the outskirts of the city are becoming an alternative for those looking for more spacious and affordable housing", Mr. Reginis noted.
The Share of Higher Energy Class Apartments Is Growing Steadily but Class A++ Remains Extremely Rare
Tightening of energy efficiency requirements for buildings increases the market share of higher energy class buildings (apartments). From the beginning of 2021, all buildings for which a building permit is requested will be required to comply with energy class A++. Data collected by Ober-Haus illustrate that of the apartments built for sale in the country's capital in 2021, the largest share was accounted for by apartments in A+ energy class apartment buildings – 55.2% (in 2020, the share of A+ accounted for 46.6%), A class – 33.3% (in 2020 – 32.2%), meanwhile, the share of energy class A++ reduced to 6.0% (9.2% in 2020). The rest (5.5%) was found in multi-apartment buildings attributed to energy class B or lower (11.9% – in2020).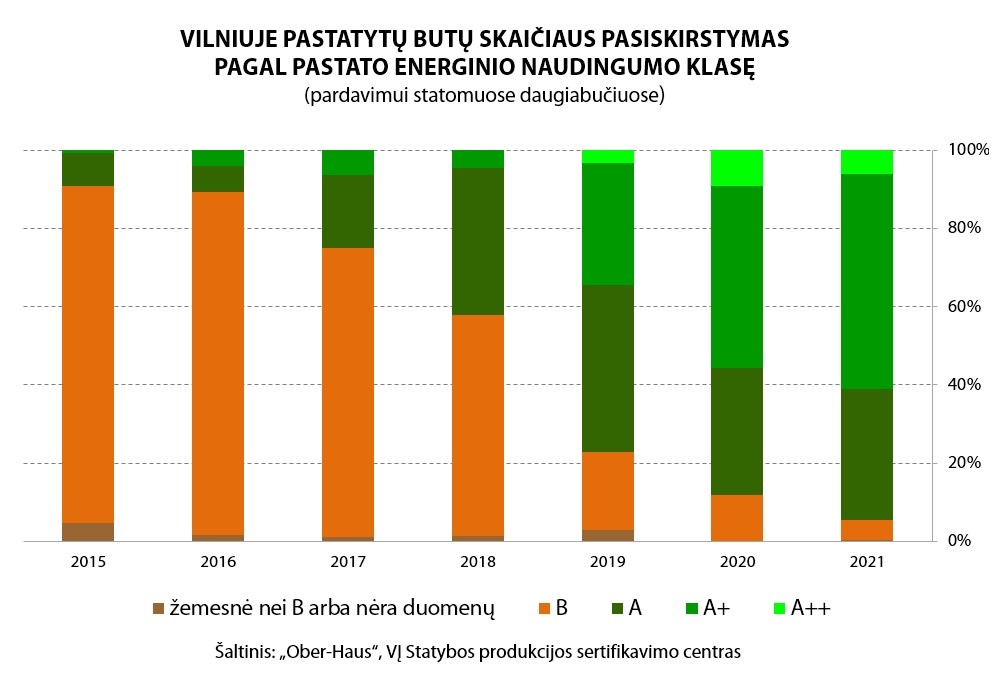 This data demonstrates that projects realised in 2021 were designed and construction permits were issued before the requirement to construct buildings of energy efficiency class not lower than A++ entered into force. Only a small number of developers designed energy class A++ multi-apartment buildings by their own choice. Data collected by Ober-Haus illustrates (with reference to the register of the State Enterprise Construction Products Centre) that there are eight different multi-apartment buildings projects with a certificate of the highest energy efficiency class in Vilnius (built in the period from 2019 to 2021).
"Analysis of multi-apartment buildings construction projects which are to be completed this year indicates that most of them are energy efficiency class A+, therefore, the supply of the top energy efficiency class buildings in the market in 2022 will not be rich either. We might expect a breakthrough in 2023 when multi-apartment buildings designed according to the latest requirements will be completed", Mr. Reginis commented.
More than Half of Apartments Were Built by Six Developers in 2021
In total, 39 different companies implemented multi-apartment buildings projects or certain stages of the projects in Vilnius in 2021. As in previous years, most apartments for sale were built by the more experienced and best-known developers. Referring to the data of Ober-Haus, in 2021, 52% of apartments were built by the major real estate development companies: Homa, Hanner, Omberg, Eika, Darnu Group and Anreka.
In terms of the number of apartments built for sale, one might state that one year it is one developer but the next year some other developers might be the leaders. However, looking over a longer period, such as the last five years (2017-2021), there are clear long-term leaders.
"Over this period, over 110 different companies have built multi-apartment buildings for sale in the capital city, but most of them were developed by long-standing leaders in housing development. For example, 10% of Vilnius developers have built around 55% of all apartments, and 20% of developers – 75% of all apartments. Seeing the potential of the Vilnius housing market, more and more companies are entering the market to build apartment buildings for sale. Most new investors will certainly remain single project companies, but we also see some big new developers entering the market and these plan to take a significant share of the market", Mr. Reginis noted.
More Apartments to Be Built in 2022 but still too Few
Given the current multi-apartment buildings and their progress, Ober-Haus forecasts that about 4,800 apartments or 17% more than in 2021 will be built in 2022 in Vilnius. Although it is projected that there will be growth in the volume of construction, it is clear now that the actual amount will be too small.
According to data available to Ober-Haus, in 2021, 7,039 apartments were sold and pre-booked in Vilnius' primary market and these were historically the biggest volumes realised. Buyers purchased apartments from developers in previously built, still under construction or only being designed and planned to be built projects. At the same time, we recorded obvious imbalances in 2021 – the record high difference between the number of apartments built and apartments realised in the primary market.
This volume of purchases has resulted in the number of unsold apartments in projects built or under development shrinking to unprecedented lows. Of all apartments built over the last year, 95% were sold by the end of the year. Of all apartments planned to be built in 2022, about 70% have already been reserved. "If the overall housing market activity remains similar to the previous year, we will continue to see an increasing number of agreements on projects which have not even started yet and which will only actually be completed in 2023-2024," Mr. Reginis shared his insights.
It will be extremely important this year to see how fast developers will be able to prepare new multi-apartment projects and offer them to buyers. Last year, we recorded numerous purchases of land plots and developers will invest significantly in these to develop new residential projects thus showing the confidence of developers in the potential of the capital city. "However, should the realisation of new projects get stuck, it is likely, that in 2022, the housing market will not be balanced. And we have seen what an unbalanced housing market looks like in 2021 – with projects taking longer than expected to build, home purchases in projects that have not yet been launched, and 26% growth in sales prices of new apartments," said the representative of Ober-Haus.