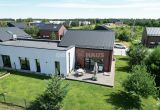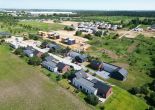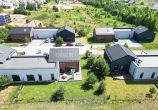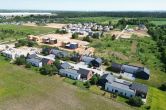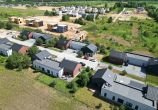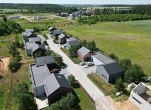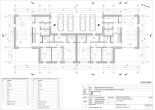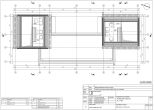 Vilniaus m. sav., Trakų Vokė, Galvės 2-oji g.
House for sale
Object type

House for sale

Total area

132.00 m²

Plot area

6.00 a

Rooms

5

Year built

2022

Heating type

Geothermal

Reference
About this property
SINGLE FLOOR HOUSE FOR SALE IN A QUARTER OF 20 NEW HOUSES
We create a sustainable community of 20 families between Vilnius and Trakai.
We have 20 years of experience in the construction business. We strive for quality. We strive for aesthetics and comfort.
We are building houses where we would dream to live on our own.
www.svajoniu.lt
Designer - UAB Performa, - excellent architects, whose work we are sincerely proud of.
"Svajonių namai" is a newly built block of 20 semi-detached houses in Užukampio village, 300 meters from Galvės Street.
The quarter is closed. The inner street is paved, equipped with lighting, automatic entrance gate.
Modern Scandinavian design.
One-storey house with a separate study in a spacious 19 sq. m in the mezzanine.
A + energy class.
Well-groomed, paved, fenced.
The house for sale is bright and sunny, with large panoramic windows.
The layout of the rooms is rational and comfortable, the living space is located on the ground floor: hall, boiler room / storage, laundry room, toilet room, bathroom and living / kitchen / dining area. Three bedrooms. 19 sq. m mezzanine for a separate work area.
Asphalt road to the yard.
Excellent communication with the center of Vilnius. 16 km and 20 min. road to the center of Vilnius.
HOUSE:
• Location - Trakų Vokė
• Type of house - brick
• Year of construction 2020
• Level of installation - partial finishing
• Heating - provided air-water pump
• Living area 132 sq. m
LAYOUT:
• Anteroom / drum 3 sq.m
• Hall / closet 9 sq.m
• Corridor 8 sq.m
• Boiler room / storage 5 sq.m
• Laundry room 4 sq.m
• Toilet 4 sq.m
• Bathroom 6 sq.m
• Living room / dining room / kitchen 34 sq.m
• Bedrooms 10, 10 and 16 sqm. m with a closet of 4 sq.m
• Working space 19 sq.m
CONSTRUCTION AND FINISHING MATERIALS:
• Foundations insulated with 30 cm polystyrene
• Outdoor walls - gas silicate 25 cm blocks insulated with 25 cm neopor
• Outdoor wall decoration - silicone decorative plaster, clinker tiles "Lode"
• Interior walls - double plasterboard, inside 10 cm rock wool
• Roof - profiled sheet metal, insulation from the inside with 32 cm combined pore foam
• Floor - 30 cm foam plastic, leveling concrete layer. Equipped with underfloor heating (pipes 18 mm).
• Windows - 6 chambers 3 glass Gealan glass packages with thermal frame. Black on the outside and inside.
• Exterior doors with double glazing
ENGINEERING NETWORKS:
• Heating - underfloor heating, collector. Intended heat pump air / water, pump not installed
• Water supply - deep well
• Sewage - "Biomax" for each house / family separately
• Electricity - 5 KW inlet in the house, routed to the distribution box in the boiler room. There is a possibility to increase the power according to the needs.
• Recuperation - derailed paths, recuperator is not installed
PLOT:
• The territory is leveled, the lawn is sown
• The yard is paved
• The territory of the house is fenced with a segmental fence
• The inner street of the quarter is paved, lighting is provided
• Asphalt access
• New residential quarter
• To the bus stop - 400 m
• Kindergarten, school, supermarkets - 2 km away
I invite you to visit at your convenience. You can contact us on weekdays and weekends until 7 p.m.