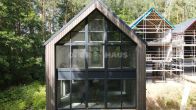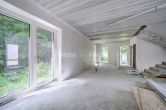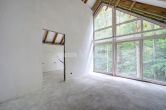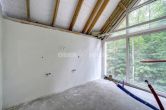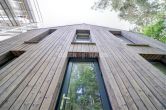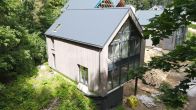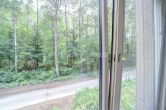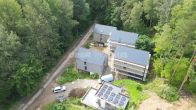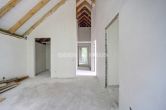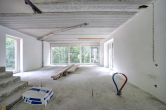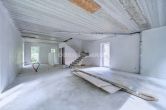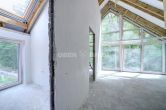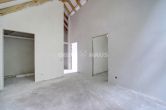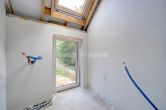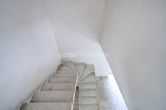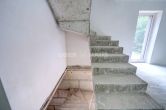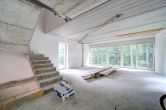 Vilniaus m. sav., Antakalnis, Pupojų g.
House for sale
Object type

House for sale

Total area

121.27 m²

Plot area

3.00 a

Rooms

4

Year built

2023

Heating type

Other

Reference
About this property
FOR SALE A HOUSE WITH A+ ENERGY CLASS, MODERN ARCHITECTURE, BUILT WITH QUALITY MATERIALS IN ANTAKALNI, PUPOJų G, VILNIUS. THE HOUSE IS IN A VERY BEAUTIFUL FOREST SURROUNDING, NEAR THE BEAN POND. The house project combines the main elements of a quality house - privacy, functional layout, sense of space, modern design and comfort.
ADVANTAGES: Separate houses (not blocked) no common walls with neighbors, giving everyone as much privacy as possible; High ceilings - ceiling height on the second floor - 4 meters There is a possibility to install a fireplace; Parking spaces under the house; Large terrace (by additional arrangement) San. nodes on floors I and II; Newly located and safe neighborhood; Panoramic windows and high ceilings; ONLY quality materials are used; In the attic there is a possibility to install a HomeOffice, a studio. The pond is 300 meters away. HOUSE: - Address: Pupojų st. - Area - 121.21 sq.m (possibility to increase the area to 180 sq.m) - Number of floors - 2 (possibility of furnishing 3) - Number of rooms - 4-6; - 85-100 percent completeness
FOUNDATIONS: Pole, drilled foundations and monolithic reinforced concrete grid, insulated with polystyrene foam.
CONSTRUCTION: - External walls - supporting structures of the house - expanded clay Fibo blocks; - overlay - reinforced concrete slabs; - facade decoration with burnt wood; - insulated with 250 mm PAROC mineral wool. ROOF: wooden structure, insulated with 250 mm mineral wool, roof covering Classic anthracite tin. 2 Velux windows WINDOWS: Shown wooden A+ class. During installation, they are sealed with internal-external sealing films. DOOR: Entrance to the house - wooden; internal house doors are not installed. CAR CARPORT: Metal structure carport for 2 cars with storage. CAR PARKING: the house has a carport for two cars
FINISHING PARTITIONS: bricked with FIBO blocks; FLOOR: the floor covering is covered with a 40 mm smoothing layer, 200 mm stone wool and a 70 mm thick concrete heated floor with plasticizer.; floor heating has been introduced; STAIRS: monolithic reinforced concrete. ELECTRICITY Bringing electricity to the input panel and supplying it to the ESO. The entrance to the house is equipped - cable AL5x16 mm. PLUMBING: installed plumbing system. GERBŪVIS: the territory is arranged, leveled with the existing plant soil.
COMMUNICATIONS, FIELD ENGINEERING NETWORKS: Water: well; Sewage: domestic sewage stands are being prepared. The pipes are led to the kitchen room and the rooms of the future sanitary units;
CONTACT: Nearest kindergarten ~ 980 m VšĮ "Starkida" ~ 1.4 km VšĮ "Augu skravingas" ~ 1.5 km Vilnius nursery-kindergarten "Molinukas" Nearest educational institution ~ 2.6 km Vilnius "Vilnios" primary school ~ 2, 9 km Vilnius district Egliski St. John Bosco High School ~ 2.9 km Vilnius Gediminas Technical University Nearest store ~ 1.7 km "Maxima", Keramikų str. 5, Vilnius ~ 2 km "Maxima", Centrinė str. 36, Galgiai, Vilnius district. ~ 2.2 km "Norfa", Mokylos st. 2b, Egliskiu km. , Vilnius district Public transport stop ~ 730 m Stanislovas Kerbedi st. 114 ~ 810 m Juodvarniai st. 114 ~ 910 m Steponas Kairis st. 114