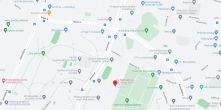 Vilniaus m. sav., Viršuliškės, Jurgio Matulaičio a.
Commercial space for rent
Object type

Commercial space for rent

Building type

Office, Services

Total area

147.00 m²

Rooms

2

Floor

1 out of 5

Reference
About this property
COMMERCIAL PREMISES FOR RENT IN VIRŠULIŠKĖES, J.MATULAIČIO STR.
147m² administrative premises on the first floor.
INFORMATION ABOUT THE PREMISES:
large open space of 98.4m², two smaller (22m²+9m²) working spaces;
central collective heating; access to premises 24/7; lockable staircases (two entrances to the building are available);
in the larger room (98.4 m) there are five windows and two balconies;
electricity accounting, security and fire alarms;
installed air conditioners; two san nodes and shower;
premises available, can be rented with existing furniture;
most suitable for administrative, online shopping, service or creative activities.
PRICE:
Rental price-7,48Eur/m²+VAT+utility costs according to the fact.
Rent amount-1100Eur+VAT.