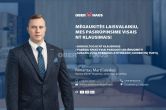 Klaipėdos m. sav., Vingio, Vingio g.
Commercial space for rent
Object type

Commercial space for rent

Building type

Services

Total area

390.00 m²

Floor

1

Reference
About this property
COMMERCIAL PREMISES FOR RENT WITH A RAMP IN A STRATEGICALLY ATTRACTIVE LOCATION Premises for rent are intended for commercial/service activities in a shopping center in the Bandužiai quarter. The premises are located in a densely populated district of Klaipėda, the flow of people and cars is very high. The shopping center has a pharmacy, a grocery store, a fruit shop, a cafe, a clothing store, a flower shop and other small traders. FEATURES * There is a closed parking lot * High traffic * Excellent visibility from the street side * Optimal area for trade * There is a ramp * The area is densely populated with about 30,000 inhabitants. More information by phone or email.